On Saturday afternoon, Barcelona strolled to a 3-0 victory at home against ten-man Elche, ascending to the top of La Liga against the team at the bottom of the standings.
The Catalans rebounded from their Champions League woes against Bayern Munich with an easy victory over opponents who conspired to make the afternoon as simple for the hosts as possible.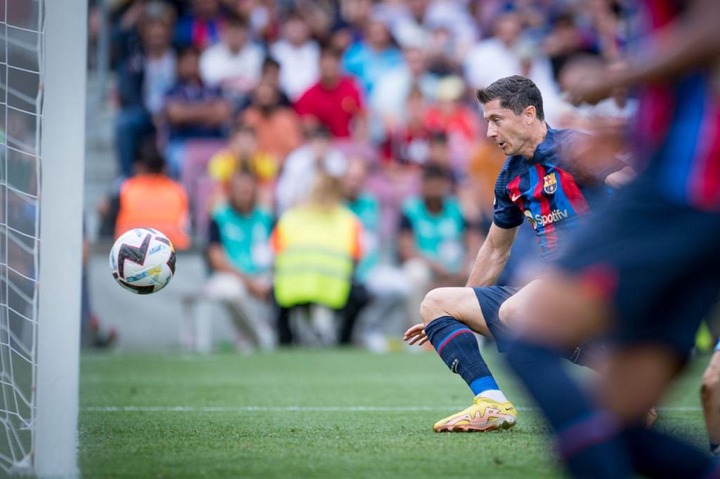 Elche travelled to Camp Nou, a venue where they had never triumphed, with one La Liga point and a game plan. The visitors, seated in a passive low block, laboured over each restart practically from kickoff, wishing the seconds away.
Elche's pre-match plan did not include the red card captain Gonzalo Verdu received in the 14th minute for a rugby tackle on Robert Lewandowski.
Within a quarter of an hour of being reduced to ten players, Elche's timid 5-3-1 failed to even bridge the gap between the lines. Pedri could receive the ball at the edge of the penalty area and pass it to left-winger Alejandro Balde with ease. After 33 minutes, Lewandowski scored after Memphis Depay misplayed a pass that the academy graduate had sent across the box.
Undoubtedly, Depay was the intended recipient of Balde's pass five minutes later. Accepting the ball in the penalty area with his back to goal and John Nwankwo breathing down his neck, Memphis Depay twisted away from the defender who was sniffing his cologne and blasted a shot as ferocious as his spin into the top of the net.
Francisco joined his captain in the locker room at the beginning of the second half for Elche. Pedri's third goal for Barcelona was ruled out for offside, but the visiting manager was penalised for his outburst before VAR could interfere.
Within three minutes of the resumption of play, Barcelona's initial two scorers teamed together to score again. Depay created a nuisance of himself in the six-yard box, causing Lewandowski to lose possession of the ball and score Barcelona's third goal.
With such a commanding lead and little indication that Elche would try a shot until the final minute, Barcelona slowed the game to a crawl and accelerated when the mood struck.
Lewandowski was surprisingly wasteful on his return to Bayern Munich in midweek, but he shook off any cobwebs as he increased his goal total to 11 in eight appearances on Saturday, despite missing many chances to score his maiden La Liga hat-trick.
With Pedri pulling the strings and Raphinha infusing more urgency down the right flank, Elche were fortunate to escape with only three goals conceded.