REVEALED: Nottingham Forest penalty hero Dean Henderson will be BANNED from playing parent club Manchester United in their Carabao Cup semi-final – except Erik ten Hag offers him special permission to play
Nottingham Forest beat Wolves on penalties to achieve Carabao Cup semi-finals
They have been drawn in opposition to Manchester United within the two-legged encounter
But they're more likely to be with out their penalty shoot-out hero Dean Henderson
Henderson is on loan at the City Ground from United and could be ineligible
United would have to grant special dispensation for him to play against them
Forest manager Steve Cooper admitted it 'put a dampener' on their victory 
Nottingham Forest's Carabao Cup penalty hero Dean Henderson will be banned from playing against parent club Manchester United in the semi-finals – except Erik ten Hag grants him permission to play.
England stopper Henderson saved penalties from Ruben Neves and Joe Hodge as Forest triumphed 4-3 in Wednesday evening's shoot-out following a 1-1 draw.
Henderson, who's on a season-long loan at Forest from Old Trafford, had already made numerous vital saves during the match itself.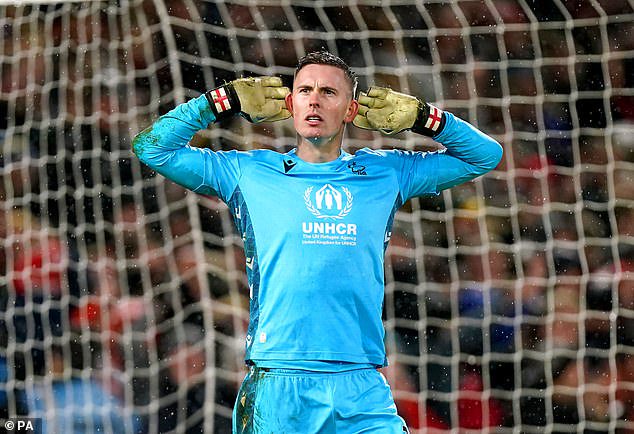 Dean Henderson was Nottingham Forest's penalty shoot-out hero as they beat Wolves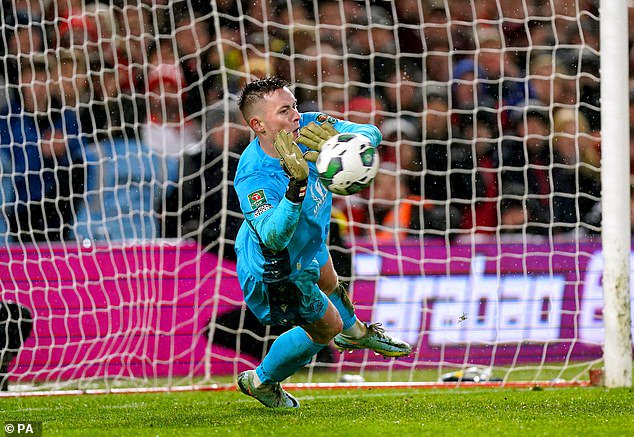 But the on-loan keeper is likely to miss their two-legged semi-final with Manchester United
But after Forest drew United in the two-legged semi-final later this month, it means Henderson is unlikely to be involved.
Article 6.3 of the rules and regulations for the Carabao Cup states: 'Players registered on a temporary basis will not be eligible to play unless the Club holding his full registration gives its written consent.'
It means United would have to grant Forest permission to play Henderson against them in the semi-finals.
Wayne Hennessey would be likely to deputise in goal for the games, as was the case when United beat Forest 3-0 in the Premier League on December 27.
Article 6.3 of the Carabao Cup rules and regulations prohibits Henderson from facing United
United manager Erik ten Hag would have to grant special permission for Henderson to play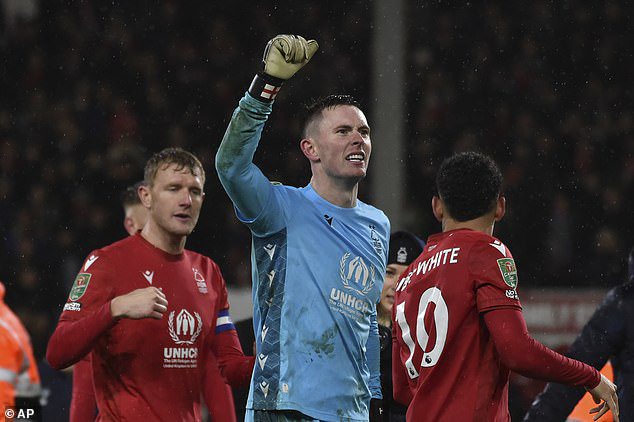 Henderson saves penalties from Ruben Neves and Joe Hodge as Forest knocked out Wolves
Forest manager Steve Cooper admitted the eligibility rule had left him annoyed.
'I have only just thought of that, it is frustrating,' he said. 'After seeing the night he had tonight, he was excellent in the penalty shoot-out, but he was good in the game, more than good in the game.

'It's unfortunate. He's part of our group, he is so invested in the group and how we work, what we're trying to accelerate in terms of what we want to become.